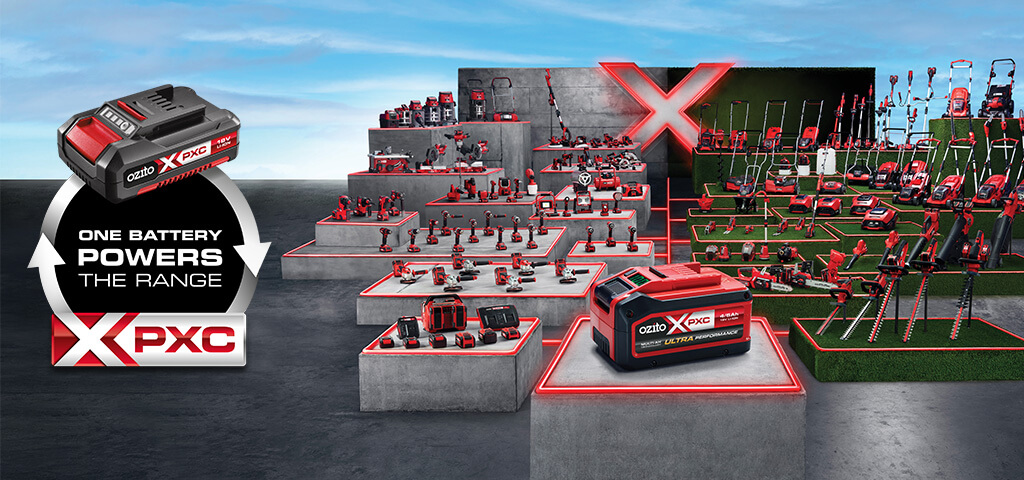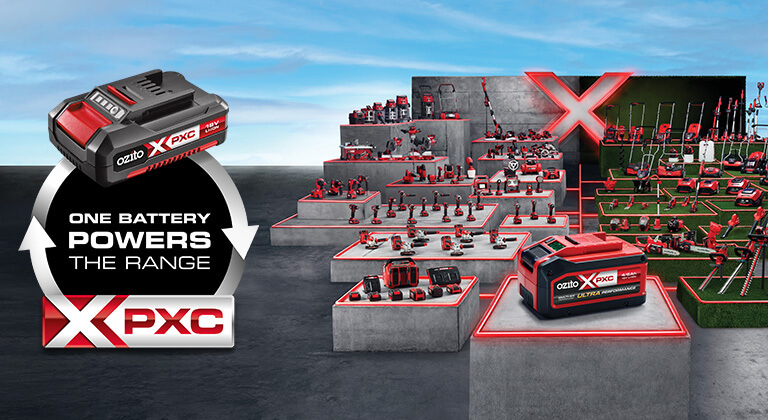 Ozito. Cordless Excellence.
One battery for over 100 power tool and garden products
Say goodbye to extension cords and tangled leads! Using the latest technology along with ambitious vision, we have successfully developed a battery system that allows for cordless freedom while DIY'ing around the home, garden and beyond. Whether it's for power tools or garden products, portable power and flexibility is at your fingertips by simply changing the PXC battery pack into different PXC devices. One battery powers the entire cordless PXC 18V and 36V (2 x 18V) range.
Cordless freedom.
Flexible power when you need it.
When you have no longer to worry about extension leads that are too short or sufficient sockets. When the device comes to the project, rather than other way round. When you simply insert the battery and are ready to go, whether it's into a lawn mower, sander, rotary hammer or wet and dry vacuum cleaner. Than that is the feeling of cordless freedom. And that is PXC. That is our mission!
Latest technology.
Proven quality.
PXC 18V batteries are the centerpiece of this platform. That is why we use only the best components such as high-performance Li-Ion cells and our intelligent ABS battery electronics in the batteries. This makes our PXC battery one of the safest in the industry and ensures efficiency, reliability and durability. We also pay attention to longevity for all other components, e.g. in the form of brushless motors.
Endurance.
Perseverance. When it matters
No matter how large your DIY projects gets, with the different battery capacities (Ah) available you can choose the runtime of the battery to suit your project. Whether you just want to hang a shelf or build an entire cubby house. Whether your backyard is a small courtyard or the size of a cricket pitch. With PXC you'll be up to any challenge.
Powerful devices. Powerful batteries.
Serving as a battery platform for all types of DIY'ers, our PXC batteries pack some serious power. Instead of switching to 36 volt batteries on a different battery platform, PXC simply combines the power of two or even four batteries thanks to Twin Pack Technology. You get more power in your tool kit, it saves you money and, above all, the 18 volt batteries can then be used individually again.
18V + 18V = 36 V! The Twin-Pack © Technology
With different voltages and capacities, you are able to adapt the battery performance to your applications and devices by desire. We have developed the Twin Pack technology for particularly powerful devices, such as some of our PXC lawn mowers, chain saws or wet and dry vacuum cleaners. You can use two PXC batteries at the same time - for real 36V battery power!
PXC Ultra for extra battery power
Batteries do not only differ in terms of runtime and weight. The provided power is also crucial. For example, if you want to cut with the angle grinder, the runtime (see Ah specification) is mostly not decisive, but the sufficient power is. This is comparable to a car. On the mountain or when overtaking, more power, i.e. more horsepower/kW, is needed. With the PXC Ultra technology, more power is available with the same number of cells. Thanks to a sophisticated, cool and performance-oriented battery design and the targeted selection of particularly efficient cells, PXC Ultra stands for more power but also for more runtime and service life.
2-in-1 battery with Multi-Ah technology
The latest battery innovation from Ozito, powered by Einhell provides DIY'ers with the power to choose: longer battery lifespan or longer runtime. Thanks to Multi-Ah technology, the new PXC 18V 8.0Ah Max. Battery is usable as a 5.0Ah battery or a 8.0Ah battery. Change from 5Ah battery to 8Ah battery at the press of a button. Choose the higher amperage for a longer runtime when mowing a larger yard, or to make more cuts with a mitre saw when building a deck. The biggest benefit of the lower amperage is that you'll get a longer lifecycle on the battery.
1 battery. 1000 possibilities.
From lawn mowers to rotory hammers to cordless circular saws: the PXC platform offer a wide range of products for garden weekend warriors and DIY enthusiasts alike. Over 90 tools are already part of the PXC family and we've got more on the way! Just 1 battery. 1000 possibilities.
Have you started your PXC collection?
Platform battery: Simply save money
As soon as a PXC battery (or two batteries for 36V devices) and a charger available, any additional tools added to your collection can be 'Skins', i.e. bare tool products purchased without battery and charger. This allows you to save money without having to cut back on equipment or quality.
Protect the environment
PXC enables you to share one battery across multiple tool and garden products instead of separate batteries and chargers for each individual device. Because fewer batteries and chargers are required, you not only have less battery chaos at home, you also conserve resources and thus the environment.