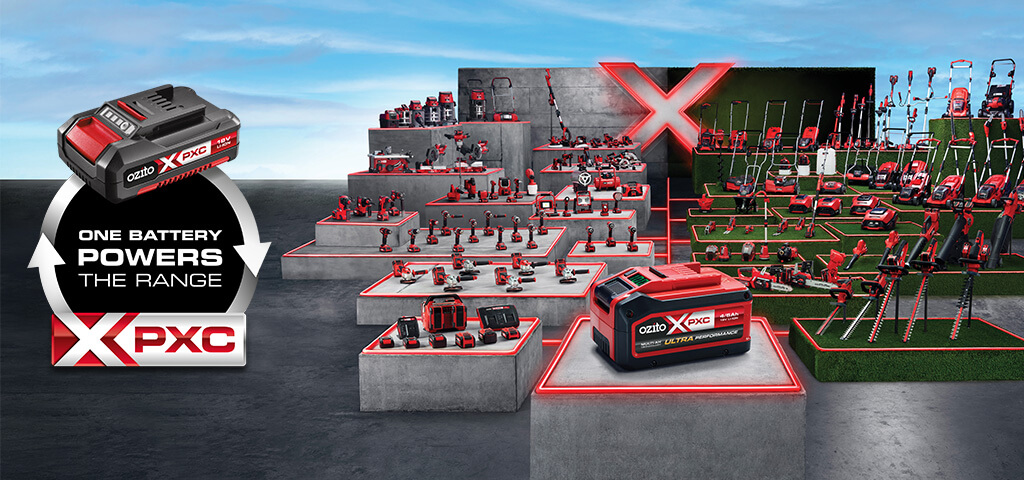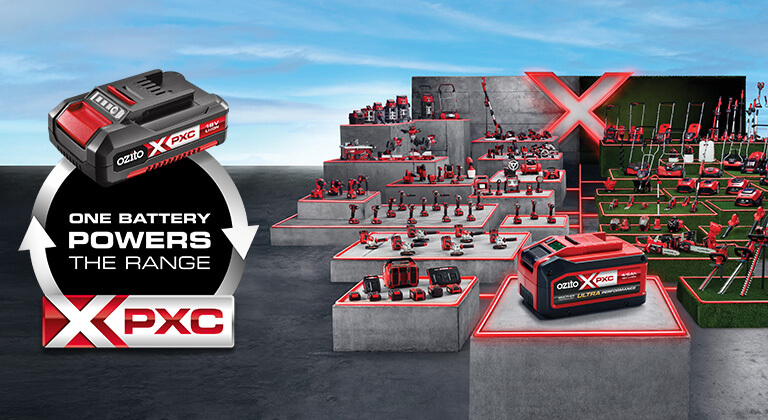 The Ozito product range
From cordless screwdrivers to lawn mowers and radios
The right tool for every task: In the Ozito range you will find an extensive selection of different equipment for use around your home. This allows amateur DIYers to kit out their workshops with everything their heart desires – and we also have an extensive range of garden tools and practical accessories on hand. Whether wired, petrol or powered with our Power X-Change battery system... The choice is yours. Our Power X-Change family allows you to work around the home, workshop and garden with maximum flexibility and wirelessly, as you can combine all batteries and chargers with any system device. More than 80 devices are already part of the PXC range, which is constantly being developed further and to which new devices are added continually.
Work powerfully with Ozito tools
Fully equipped for your home workshop: You can find it here
Hammer drills, mitre saws, table saws, compressors or wet/dry vacuum cleaners. Depending on the projects you're working on, you'll need the right tools for your workshop. Whether you prefer to work with a wired power connection or wirelessly with our batteries: We have the right tool for every task. Ozito products are not only perfect for hobby DIYers because of their fantastic price-performance ratio, but they also impress with their function and performance.
You can find comprehensive information about our product range on our website. Divided into individual categories, you can easily find your way around and not only can you get detailed information about the various Ozito products, but you can also find valuable professional tips on how to use the devices. You can also find each of our different product groups divided into three categories for tools, garden and accessories. In tools, we distinguish between (hand-held) power tools, stationary machines, cleaning devices, automotive technology and heating devices.
Healthy, green gardens with Einhell gardening equipment
Powerful tools for lawns, hedges and much more!
Whether spring, summer or autumn – there's always work for amateur gardeners whatever the time of the year. However large or small, winding, flat, hilly, planted or ornamental your garden might be, at Einhell you are sure to find a suitable gardening tool to help you with your tasks. From pumps to hedge trimmers to classic lawn mowers, you'll find what you're looking for here. Our Power X-Change system really has many advantages since particularly in the garden sockets are scarce. So, if you want to work wirelessly and without exhaust fumes, make sure to take a closer look at our cordless gardening devices. Our extensive garden range includes lawn mowers, scarifiers, trimmers and scythes, hedge trimmers, water pumps, leaf blowers and leaf vacuums, grass trimmers, chainsaws, pole saws, ground tillers, shredders, pressure sprayers and much more.